Automatic Sprinkler & Irrigation Systems from Kortendicks
An automatic irrigation or sprinkler system from Kortendick Underground Irrigation Systems is the best way of growing a lush, green landscapes while minimizing water usage.
It is also the best way to protect your investment in your home and your landscape!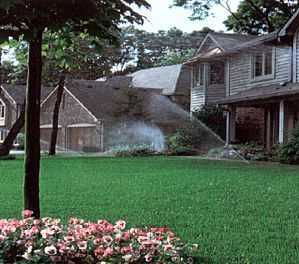 Systems can be installed for flowerbeds, gardens or full lawn coverage
Systems may be installed any time the ground is not frozen
Winterization service is included the first year of installation
Installation of a complete residential sprinkler system can usually be done in one to two days
Existing manual systems can easily be converted to automatic systems
Why Hire a Professional to Install Your Sprinkler System?
Installing a sprinkler system correctly is a complex task. It's best to hire a professional with expertise in efficient irrigation and sprinkler layout and design, hydraulics, soil types, and the water needs of various plants and vegetation. Professional sprinkler system installation is also your key to a warranty ... after-sale service ... and long-term reliability.
Types of Sprinkler and Irrigation Systems
Kortendick Underground Irrigation Systems works with the top manufacturers of irrigation systems and yard sprinkklers on the market, including Toro Residential Irrigation & Sprinklers, Rain Bird Sprinkler Systems, Hunter Irrigation Systems and Netafim Drip/Micro Irrigation Product,. Here are but a few of the products we offer from these irrigation companies.
Rotor Sprinklers
Particularly effective for large grassy areas, rotors are ideal for irrigating large lawns, with a steady, back-and-forth flow of water up to 160 feet away!
Spray Sprinklers
Providing coverage up to 30 feet, pop-up spray sprinklers are used with different nozzle combinations and are ideal for irregularly shaped areas, shrubs and small lawns.
Residential Sensors
Sensors work with your irrigation system controller to track local weather conditions and help determine the optimal watering schedule for your landscape. Rain sensors help prevent over-watering during rainy weather, and more advanced sensors track even more weather data to make sure your lawn, trees and landscape receive just the right amount of water under ALL weather conditions.
Sprinkler Valves
Irrigation sprinkler valves, often installed underground, help control the distribution of water to the different pipes in a irrigation sprinkler system, and are sometimes required by local city codes to protect against back-flow.
Irrigation Controllers & Timers
Made to accommodate a number of different "zones", such as different gardens, shrubs and lawn areas, irrigation controllers offer a high degree of sprinkler precision and scheduling. Your Kortendick irrigation professionals can help you select, install and configure a programmable irrigation controller that is best for your home or business landscape.
Drip Irrigation
Also referred to as drip watering or spot watering, drip irrigation systems reduce evaporation and help save water by delivering water directly to the roots of your lawn, garden and other vegetation.
The benefits of drip irrigation include:
Prevents weeds by delivering water directly to each root zone, and not the surrounding area
Encourages faster growth by delivering moisture direct to root area
Produces longer lasting blooms through proper watering that ensures optimum health
Saves water by irrigating precise areas without over spraying nearby plants or sidewalk
Trust the History & Experience of Kortendick Irrigation
Our team of irrigation experts has installed and repaired irrigation systems and lawn sprinklers through southeast Wisconsin for more than 26 years - from Milwaukee to Waterford to New Berlin, Oak Creek and Racine ... and everywhere in between!. The staff at Kortendick Underground Irrigation Systems brings its experience in design, installation, and maintenance to every irrigation project.
Contact us or call for Your FREE Estimate: 262-681-4222